This article is a stub.

Reason: <insert reason here>

Please help us expand it before the Illuminati Embodiment comes to brainwash you.
The Illuminati Embodiment is the physical embodiment of the Illuminati.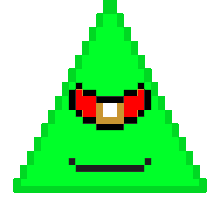 Description
The Illuminati Embodiment is a green triangle with a red eye and a mouth. He is the arch-rival and villain of TOTMGsRock. He can fire devastating projectiles called Projectriangles from his eyes, brainwash people, control people's minds, telepathically communicate with members of the Illuminati, pop up devastating weapons from inside his body, telepathically cause victims to become engulfed in fear and/or other negative emotions, etc. With a TOTMGsRock Creature Index of 22, he rivals TOTMGsRock in power.
Trivia
The Illuminati Embodiment was obviously based off of the Illuminati, a secret organization hell-bent on complete world domination.
Ad blocker interference detected!
Wikia is a free-to-use site that makes money from advertising. We have a modified experience for viewers using ad blockers

Wikia is not accessible if you've made further modifications. Remove the custom ad blocker rule(s) and the page will load as expected.